TOP 10

HALLOW

EEN

CAN

DIES

THAT

DON'T

BITE

BACK
Halloween, which is one of my favorite fall holidays, is quickly approaching us. Halloween is all about the costumes, the parties, the pumpkins, the scary movies, the haunted houses, the tricks, but most importantly the treats. What is the one thing on every child's mind on Halloween? How much candy will they receive. Most candy children receive is filled with chemicals, GMO's, artificial flavors, artificial colors, high fructose corn syrup, and ingredients you can't pronounce. Even us adults want some candy that we don't feel as bad eating. I am here to tell you that there is a world full of wonderful Halloween candies that don't bite back.
1. Justin's Milk and Dark Chocolate Peanut Butter Cups
Justin's Peanut Butter Cups come in both milk and dark chocolate. They are certified organic and gluten free. The dark chocolate is Vegan and does not contain dairy. The milk chocolate contains dairy. They are very smooth and creamy without any unrecognizable ingredients. For Halloween, they come in 10 individually wrapped cups. They are only 80 calories per cup. You can find these individually wrapped bags of Justin's at Whole Foods Market, Target, Amazon.com, and local organic markets.
2. Annie's Organic Bunny Fruit Snacks, Berry Patch
Annie's has fruit snacks that are great treats to give out to kids or to eat them yourself. These ones come in Strawberry, Cherry, and Raspberry flavors. Their bunnies come in a Halloween designed fun sized bag. The best part about them is that they are made with real fruit juice and they are also certified organic and Non-GMO. They are also made without High-Fructose Corn Syrup, artificial colors, artificial flavors, or preservatives like their competitors in the fruit snacks. They are cute bunny shaped and they taste very yummy. You even get a dose of Vitamin C! You can find these at Whole Foods Market, Target, and Amazon.com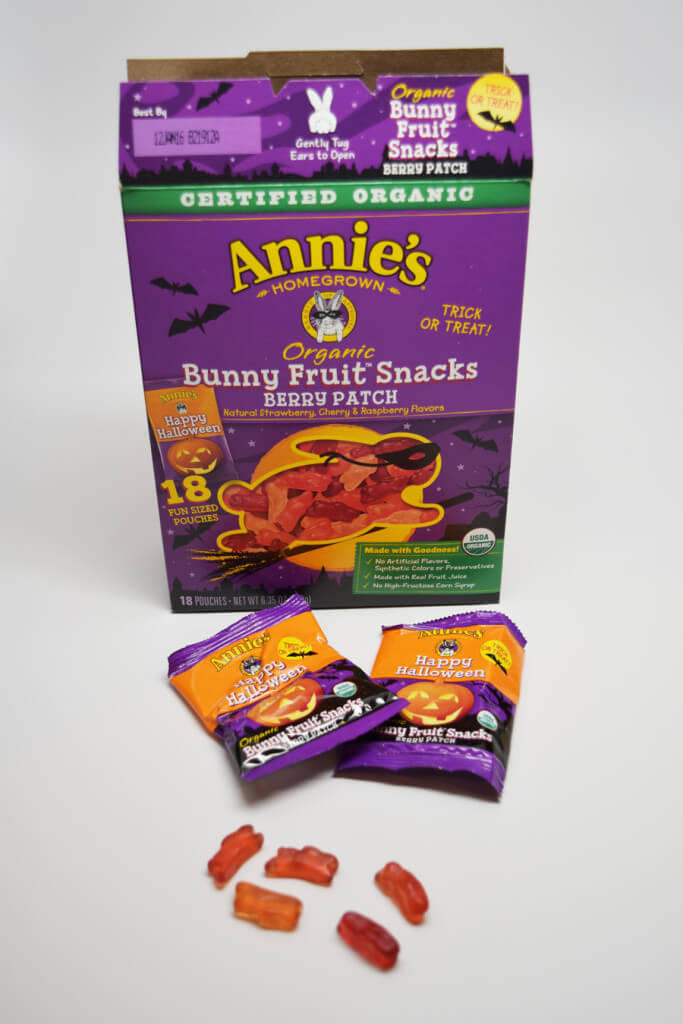 3. Sweet's Candy Corn
Who doesn't love candy corn on Halloween? Unfortunately the ones we all know to come and love are made with artificial colors and flavors. The first time I found this gem was last year and I fell in love. When you open the bag you get a scent of Marshmallow with a hint of orange essence. The taste is comparable, if not better. Unlike regular candy corn where the 3 colors (orange, yellow, and white) are on one, each piece has its own full color. The coloring comes from Pumpkin, Apple, and Carrot. The best past about these is that they don't leave you with that awful artificial taste like regular candy corn. These are certified Gluten Free, Kosher, and contain Non-GMO ingredients. You can find these at your local Whole Foods Market. I highly recommend these for all you candy corn lovers and you won't be disappointed!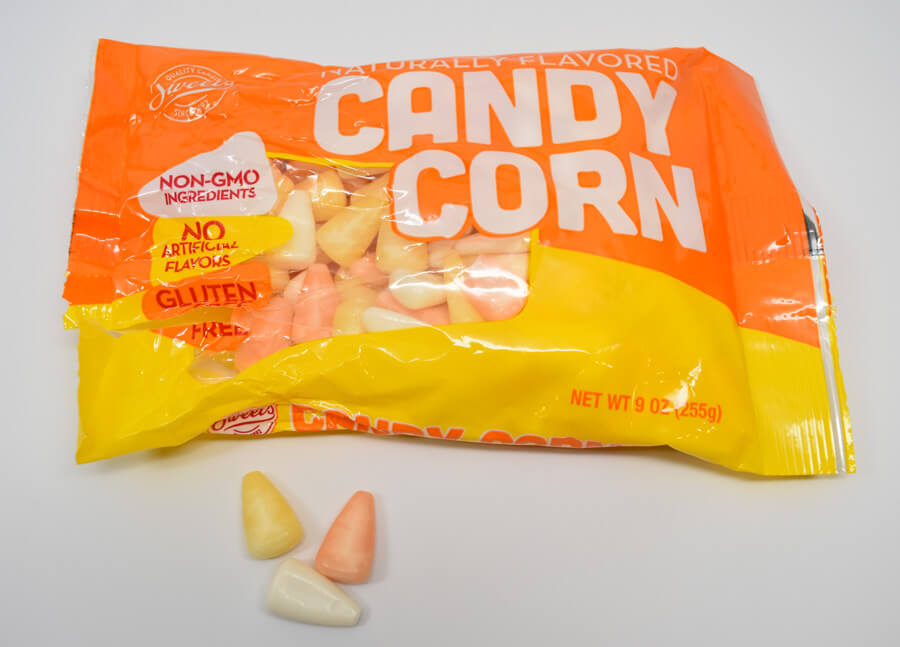 4. YummyEarth Organic Pops
Everyone loves a great tasting lollipop in his or her Halloween candy bag. Why not give a child one with benefits and without frightening ingredients? There are about 40 pops that come in each bag.
The flavors include,
Pomegranate pucker
Wet-face watermelon
Strawberry smash
Googly grape
Very very cherry
Perfectly peach
Razzmatazz berry
Mango tango
The best part about these pops is that they are made with real fruit juice and they are certified organic. They are also, gluten free, peanut free, tree nut free, soy free, dairy free, fat free and vegan. These are allergen friendly candies, which is so important to consider on Halloween. The flavors of the pops come from certified organic black carrots, black currant, apple, carrot, and pumpkin. They are very tasty and they give you your recommended 100% daily dose of Vitamin C when you eat 3. You can find these at Target, Whole Foods Market, Amazon.com and other local natural markets.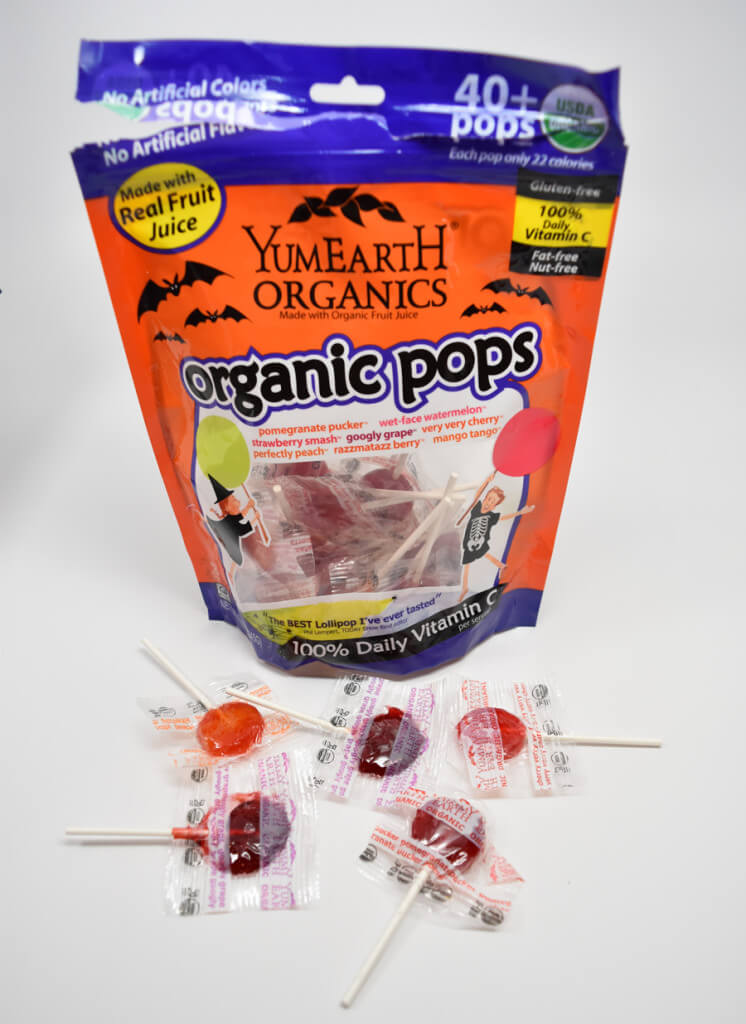 5. Surf Sweets Organic Fruity Bears
Gummy bears are a fundamental part of Halloween candy. These organic gummy bears have a nice fruity taste bursting with flavor. There are 20 small pouches of fruity bears that come in this package. These are certified gluten free, Non-GMO, and organic. These gummies are allergen friendly and even made in a nut free facility. They are also Vegan, soy free, and dairy free.
Flavors include:
Cherry
Grapefruit
Grape
Lemon
Strawberry
You can find these at Whole Foods Market, and also visit www.surfsweets.com to find a store near you.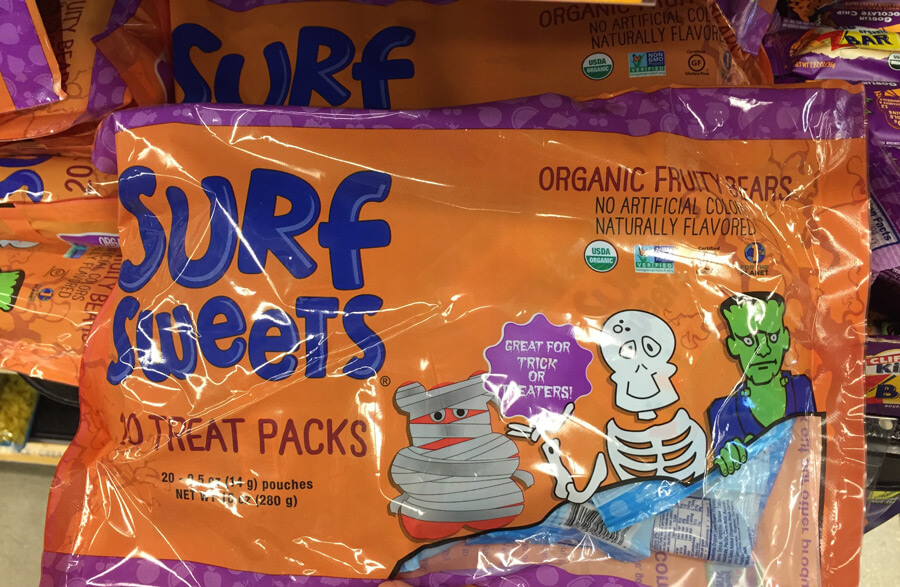 6. Dagoba Tasting Squares
Dagoba produces amazing tasting organic chocolate with unique flavors. They sell these flavors in small squares, which is great to put in a Trick-or-Treaters Halloween bag or to satisfy your chocolate cravings in small doses. The flavors include:
Lavender Blueberry Dark chocolate squares (59% Cacao)
-dark chocolate, lavender essence & wild blueberries
Milk Chocolate squares (37% Cacao)
-milk chocolate
New Moon Bittersweet Dark chocolate squares (74% Cacao)
-rich dark chocolate
Organic Xocolatl Dark chocolate squares (74% Cacao)
-rich dark chocolate, chilies & nibs
Each one of these flavors are amazing and your older Trick- or-Treaters would for sure appreciate one of these gourmet chocolates in their candy bag. For the younger kids, I would recommend the Milk chocolate and Lavender, which do not have as strong of a flavor like the others. You can buy these in bulk on http://shop.dagobachocolate.com/Tasting-Squares/c/DagobaChocolate@TastingSquares . Also, you can find larger versions of these squares or other Dagoba chocolate flavors at your local Whole Foods Market and other grocery stores.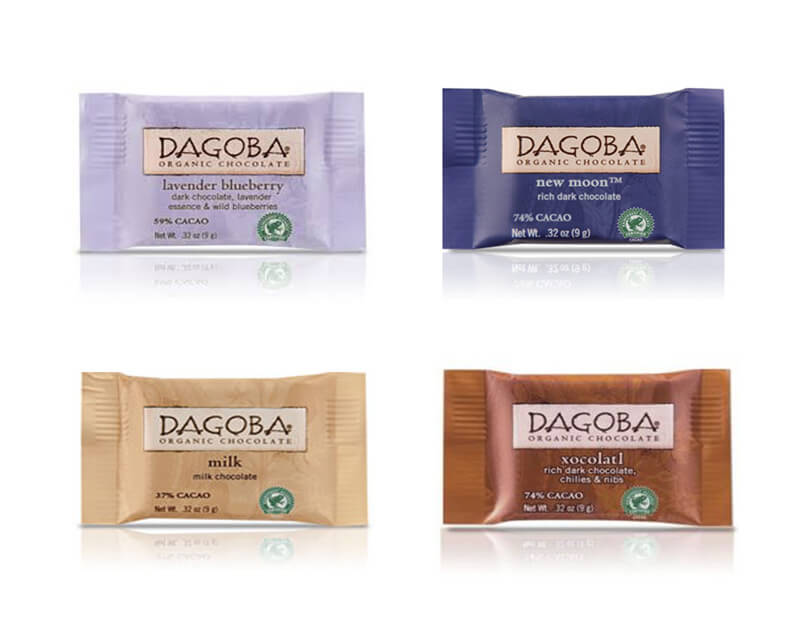 7. TruJoy Sweets Organic Original Fruit Chews
TruJoy Sweets organic original fruit chews are the organic version of everyone's favorite fruit chew candy without any artificial flavors, colors, or unrecognizable ingredients. Flavors include Cherry, Lemon, Orange, and Strawberry. These are also gluten free, Vegan, organic, Non-GMO, and kosher. These taste amazing and kids and adults will love these. It will keep you all chewing, just the way you like it. You can find these at Whole Foods Market or visit http://www.trujoysweets.com/where-to-buy/ to locate a store near you.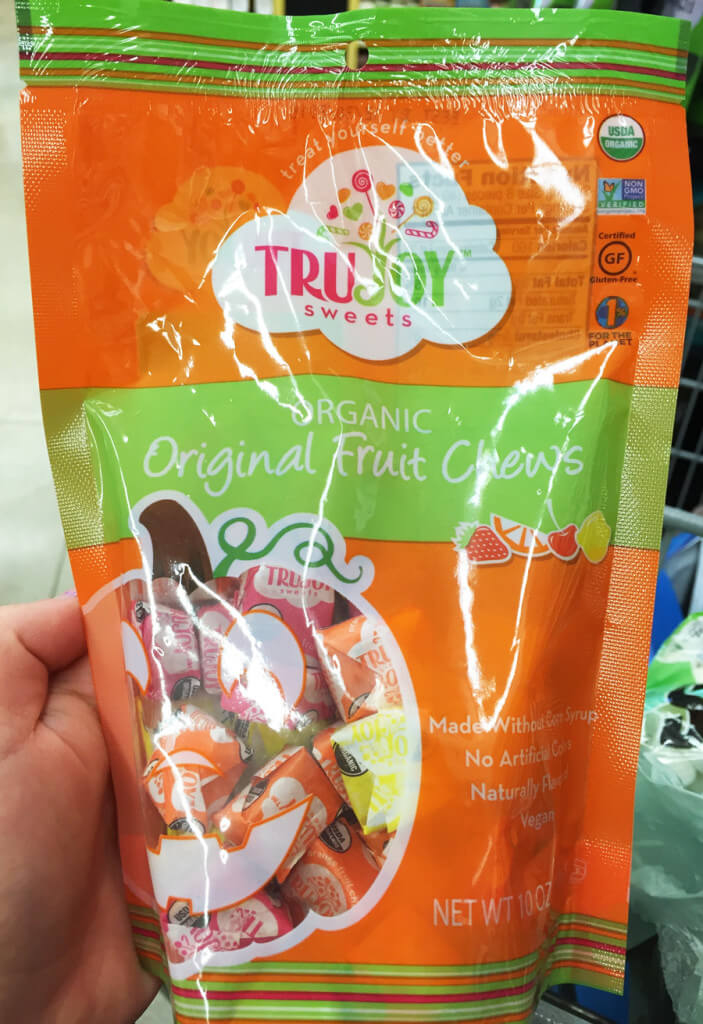 8. OCHO Candy Bar Minis
These are individually wrapped mini versions of OCHO's amazing tasting candy bars. These make great Halloween candy treats with no harmful ingredients. They are all certified organic.
The flavors include:
-dark chocolate on the outside with coconut inside (Organic and Vegan)
-milk chocolate on the outside with a soft peanut butter center and peanut pieces inside (Organic)
-dark chocolate outside with a cool peppermint cream filling on the inside (Organic)
-milk chocolate on the outside with homemade creamy caramel on the inside (Organic)
You can buy these wonderful mini's at Whole Foods Market, local organic markets or on their website http://www.ochocandy.com.
9. BOOMCHICKAPOP Sea Salt Popcorn
Popcorn has been a long running tradition for Halloween treats. As a kid, I used to love receiving popcorn in my Halloween bag, as I am the biggest popcorn fanatic. Target is selling BOOMCHICKAPOP Sea Salt flavor in 16 individual bags. They are Non-GMO and gluten free. At only 30 calories per package, these would be amazing healthy Halloween treats for your treators. I won't tell anyone if you grab a bag or 2 or 4 of these for a guilt free Halloween snack for yourself :). You can empty out a few bags into a bowl and drizzle melted organic chocolate on top for a yummy Halloween treat. You can find these at your local super Target.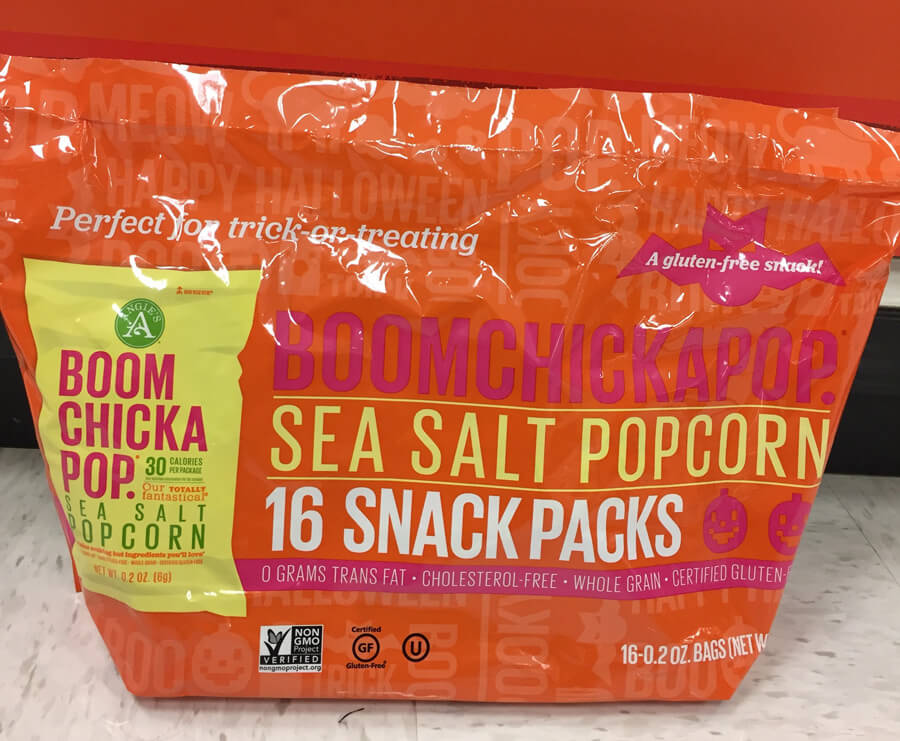 10. Annie's Homegrown Halloween Bunny Grahams
These Bunny Grahams are a great treat to give out to the kids on Halloween. There are 22 Halloween decorated packs of delicious Bunny Grahams that come in a box. Although not certified organic, they are made with organic ingredients. They are certified Non-GMO. There are no artificial flavors, preservatives, or artificial colors. They have a great taste of honey, vanilla, and chocolate that both kids and adults will love. I found these at my local Super Target.
I hope you enjoy your Halloween night with these yummy alternatives that won't scare the goblins out of you
(unless you need it too).
Love,
Sara, "S.O.Eats"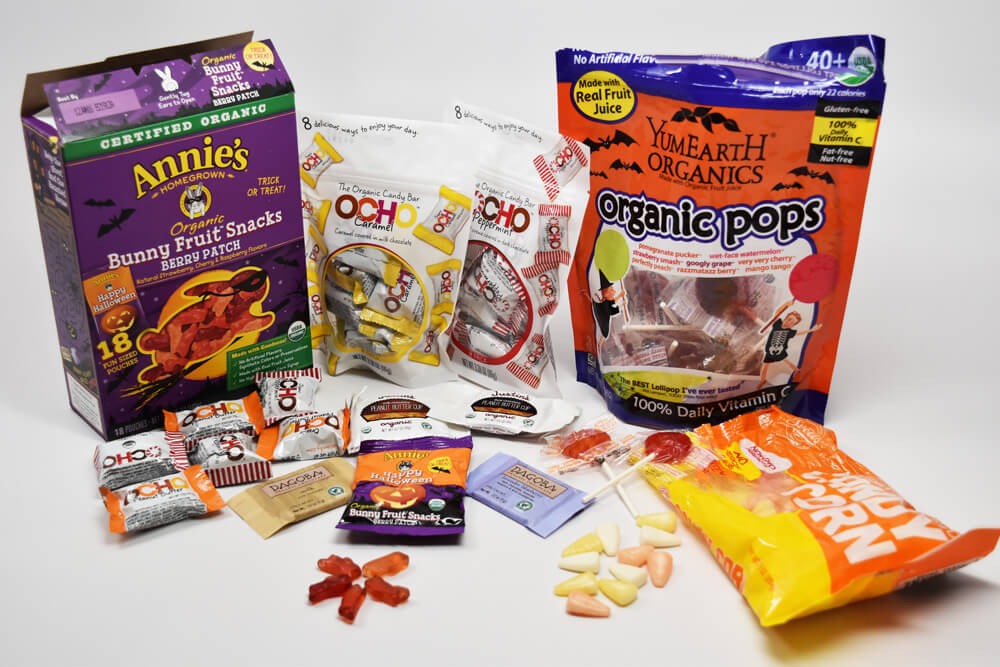 *Disclamer: I found these candies at my local Super Target and Whole Foods Market in the South Florida area. Stores vary with product so please check your local stores or visit the companies website before going. Also Organic/Non-GMO candy can be very addictive and may turn you into an organic candy lover so proceed with caution before trying one of these delicious candies. It may convert you from the dark side ;).