How I Survived Living an Organic Lifestyle in College when Everyone Around Me Was Not (and How You Can Too!)
When I was in college, I would say I was one of the healthiest among all of my peers. Every food item in my dorm was organic and non-gmo. I cooked all the time and created all these elaborate meals. To my advantage, Whole Foods Market was exactly 8 streetlights from where I lived in the heart of the touristy area of Orlando, Florida. You can only imagine how many times a week I ventured to the grocery store. My roommates and I used to joke and say if you could not find me, there are only two other places that I would be besides home… Disney or Whole Foods.
Of course with doing something that wasn't seen as the norm among my age group, I received a lot of questions, comments, insults, and criticism about me eating a certain type of way. Despite all of that, those people never brought me down.
The most common comment I would receive was "Organic food is soooooo expensive, how can you afford it?" Of all the comments, this one was my favorite to answer. My main answer usually was "It is not as expensive as you think." Because of my extensive research, I knew how to shop for it and where to get the best deals. Unfortunately, organic in most people's eyes is a term for charging two times more, which at some stores is, but with organic growing so rapidly, it is available in many stores. I studied massively on where I could find the cheapest prices for organic food as possible. I went to Target, Wal-Mart (yes, Wal-Mart!), Fresh Market, Publix, BJ's Wholesale Club, Costco, local organic grocery stores, and of course my main stomping grounds, Whole Foods. As a result, I was deemed the grocery guru. Even though I was constantly at grocery stores throughout the week, I would also spend every Friday going to four grocery stores in one day. I especially loved Friday block parties at Whole Foods Market where you got to sample different recipes from each department for free. This was my greatest pleasure and cool off from a long week of classes and work.
I think the comments that would bother me the most were the ones where my friends would try to impress me somehow. Along the lines, they would say, "look Sara, I bought this item at Whole Foods." It was like they put me on some higher level just because of the way I ate. On one hand, I was happy that they looked at me as an influence, but on the other hand I could not fathom why eating a certain way would make a person cool or not. One time I had a friend say, "look Sara, I bought organic sugar." It was the Florida Crystals brand that sells both natural and organic sugar products. She actually purchased the natural sugar, but I didn't have the heart to tell her it wasn't organic. The way she said it to me was in a way that she wanted my approval and that somehow now she was cool since she bought an organic product. I just could never understand this.
Drinking in college of course is inevitable and in most cases is a right of passage when moving away from home and turning the rightful age of 21. So, how was I able to still live an organic lifestyle and socialize with my friends with a few drinks? Although I barely drink alcohol, I would drink on occasions when we would venture to Downtown Orlando on the weekends or to my favorite spot Señor Frogs on Monday nights. Also, when there would be parties in our apartment building (and there were plenty), I would actually make my own drink in my apartment, which consisted of organic vodka and organic pure cranberry juice and I would bring it with me to the party holder's apartment. That way, I would at least drink organic and something I enjoyed, be social and not have to suffer drinking something I did not like that was offered at the party.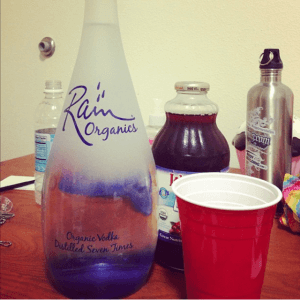 The way that I survived college was not to listen to the negative words that my peers were telling me and focusing on friends that would accept me for who I am. I always appreciated the very few that never insulted me or commented about the way I ate and would actually respect me for it. A couple of my friends and roommates actually went out of their way to buy from Whole Foods when either they took the initiative to cook for me or to eat together in one of our apartments. Who you are inside is more important than what you eat, what you weigh, and most definitely what you look like. If you want to stand out, you of course are going to have people that are either envious of you or want to bring you down, but you must NEVER let them. Be yourself and always do what is best for you. Trust me you will find friends who will appreciate you and support you. They may even buy you your favorite Green and Black's organic 85% dark chocolate for you. 😉
If you ever need help with wanting to eat organic in college or in general please ask questions I would love to help.
Love,
Sara, "S.O. Eats"
Survival Tips
1.Surround yourself with positive people who accept your journey
2. Never feel pressured to do what other people are doing just to be accepted
3. Do what works best for you and never put your health in danger
4. Most importantly enjoy your college years, don't waste them on cheap food and negative people
*Disclaimer- Just because alcohol is produced organically, it does not make it any healthier or safer. It is still alcohol. Please Drink Responsibly.