DIANE'S SWEET HEAT 
Diane's Sweet Heat are jams with attitude. Their tagline certainly lives up to the taste of Diane's Sweet Heat jams.
At the Natural Products Expo West a couple of months ago, I came across Diane's Sweet Heat booth. I tried all four flavors of the jam and I fell in love. The sweet taste of fruit mixed with some habanero heat is divine! I am not the biggest fan of spicy food but Diane's jams are the perfect balance of sweet with a little heat. Lets just say that I did not need to rush to the nearest booth with dairy to try to take the heat away.
The jams come in 4 flavors. The flavors are Blackberry Habanero, Mango Habanero, Raspberry Habanero, and Peach Habanero. Each flavor is made with NON-GMO and natural ingredients without any artificial colors or flavors. The ingredients for each flavor are red bell peppers, pure cane sugar, fruit of the jam flavor, apple cider vinegar, fruit pectin, and habanero peppers in that order. When you open a jar of Diane's Sweet Heat, you automatically get a delicious smell of habanero with that hint of the flavors sweetness. Again, it is the perfect balance of heat and fruit sweet.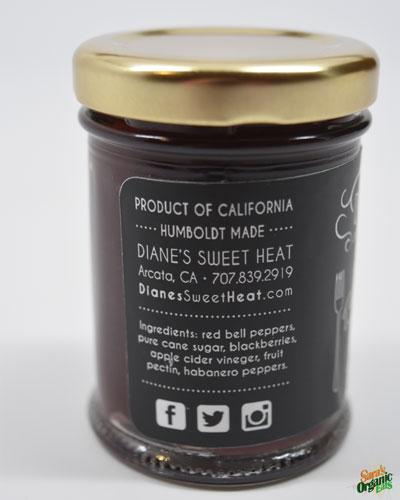 You can enjoy Diane's Sweet Heat jams over cream cheese, with crackers, on toast or bagels, with cheese, in a marinade for meats and vegetables, or even on top of your favorite ice cream.
Diane's Sweet Heat is currently sold in Northern California where the jams are made. Please visit http://dianessweetheat.com to find a location where to purchase in California. For those of us who do not live in Northern California you can purchase Diane's Sweet Heat here.
Please like and follow Diane's Sweet Heat,
Instagram  (@dianessweetheat)
Twitter  (@dianessweetheat)
Hope you enjoy these jams with attitude!
Love,
Sara, "S.O.Eats"