FEEL GOOD DOUGH
Feel Good Dough is the first and only all organic ready to bake dough brand.
Do you know what the hardest and most frustrating part of making anything that requires dough is? Well, it is the actual dough making!!! If you don't have the right recipe, time it long enough, or if you live in a humid part of the country, your dough falls flat and is unusable. All you are left with is a loopy pile of stretchy unusable dough. Well you can fear no more because Feel Good Dough is the answer to all of your frustrating and timely dough making.
The best part is that Feel Good Dough uses all certified organic and high quality ingredients. Even down to the yeast, which Feel Good Dough is the first brand to use 100 percent organic yeast that is made in America. Feel Good Dough is committed to being 100 percent organic. There are very few ingredients in their dough products. That is for sure something to "feel good" about. It is also vegan, non-GMO, and some of their products are kosher certified. It is everything you ever hoped and dreamed for in a dough product. Haven't you ever heard the secret to a recipe is all in the dough?
Currently, they have 5 different frozen dough flavors and 2 dry mix dough flavors.
Frozen Flavors Include
Oil-Free Whole Grain
Italian Herb
Market Natural
Roasted Garlic
Chocolate
Dry Mix Flavors Include
Market Natural
Oil-Free Whole Grain
You don't even have to open the package to smell the scent of delicious herbs and spices. When you bake up the dough, you can also smell the herbs throughout the kitchen and house. The chocolate dough is not too sweet which I like because then you can add all the sweet toppings to it. The other flavors are delicious and versatile. You can create various recipes from a single dough. Some of those ways include, cinnamon rolls, pretzels, pizzas, empanadas, garlic knots, pot pies, quiche, and so much more!
With the chocolate dough, I came up with the easy recipe of GLAZED CHOCOLATE DOUGH BALLS.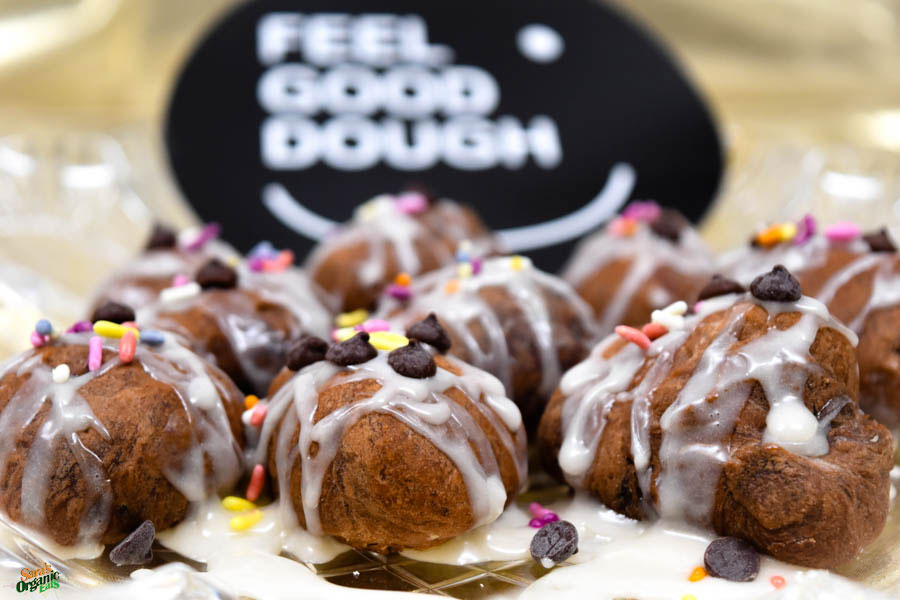 Ingredients
1 package of Feel Good Dough

™

 chocolate dough
1/4 cup powdered sugar
1 tbsp milk
1 tbsp sprinkles
1-2 tbsp of mini chocolate chips
Thaw frozen dough in the fridge overnight. Preheat oven to 400 degrees. Prepare a baking sheet lined with parchment paper. Take the dough out of the package and roll it out on a lightly floured surface. Make the dough into about 1 inch balls. Place on the parchment paper about 1 inch apart and bake for 10-12 minutes. While the balls are in the oven prepare the glaze. Mix together the powdered sugar and milk. feel free to add more milk if you want a looser consistency. Once the doughs are out of the oven let cool for about 5 minutes. Top with the glaze, sprinkles, and chocolate chips. Feel free to add any additional toppings you may like.
You can find Feel Good Dough in select grocery stores in the Ohio and Michigan area as well as online. To find a location near you visit feelgooddough.com . Also visit their website for more information and recipes.
Follow Feel Good Dough on social media @feelgooddough .
Hope you enjoy using Feel Good Dough in your next recipe that requires dough!
Love,
Sara,  "S.O.Eats"