Organic

Guacamole
Organic guacamole is one of the easiest and tastiest dips to make. Also, Cinco De Mayo is in a few days! Cinco De Mayo is a holiday to commemorate the Mexican army who won the Battle Of Puebla against the French Army. I think us American's go all out way more than the Mexican's in Mexico do. Mexican food is amazing and one of my favorite cuisines. I love making guacamole and of course making it organic! It is one of the best dips ever created. You can make guacamole any time of the year for almost every occasion or for no reason at all. The only way to make guacamole is in a Molcajete which is a mortar and pestle. It brings out the most flavor of the guacamole. This is the traditional way to make guacamole. It is amazing to think that with only a few organic ingredients, you have this delicious organic guacamole.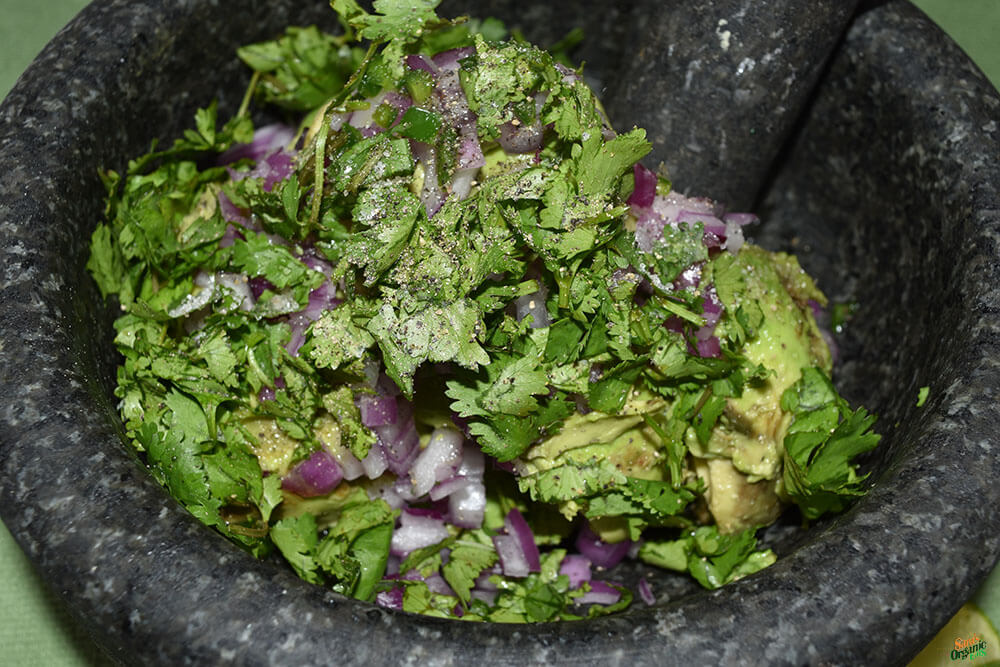 Ingredients
4 organic avocados, peeled and pitted
1/2 cup organic red onion finely chopped
½ tbsp organic jalapeño, finely chopped
½ cup organic cilantro, chopped
2 small organic limes, juiced
1 tbsp organic cold pressed olive oil
2 tsp Himalayan salt
1 tsp organic ground pepper
Tools Needed:
Molcajete (motar and pestle)
Instructions
Place the peeled and pitted avocados in the molcajete. Then add the lime juice, olive oil,salt, and pepper. Mash those ingredients together lightly with with pestle. then add the red onion, jalapeño, and cilantro to the molcajete. Mash all ingredients together until everything is mixed and you reached your desired consistency. (I like leaving it a little chunky). Serve immediately.
Notes
Feel free to add more or less of any of the ingredients. If you don't have a Molcajete, use a mixing bowl.
http://sarasorganiceats.com/organic-guacamole/
Don't forget to grab your favorite organic tortilla chips and dip it into this yummy organic guacamole. I hope you all have a fun Cinco De Mayo!
Con Amor (with love), 
Sara, "S.O.Eats"