Organically Thankful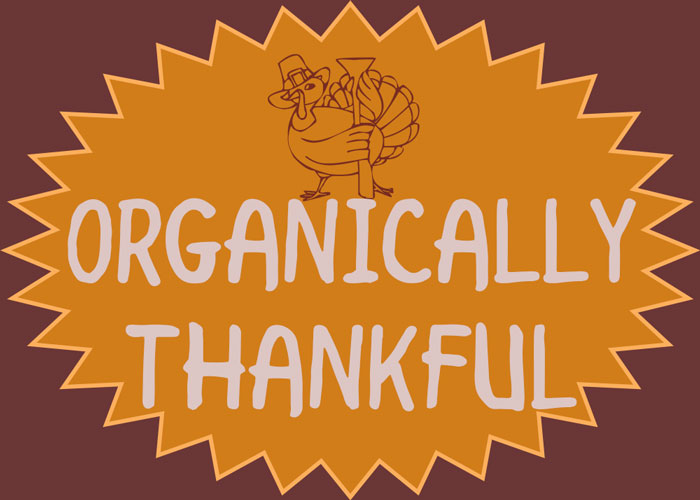 A few days ago, I came to realize how "organically thankful" I truly am. Don't get me wrong, every day I feel thankful. But, I felt it even more in the past few days. I went to my grandparents' house over the weekend for a family dinner. My grandma specifically bought organic food items to serve at dinner. It just made me so happy when she kept pointing out and saying, "Sara, this is organic, this is organic, and this is organic", to everything that was organic. Even though my family has supported me on my organic lifestyle for the past 8 years, something the other day sparked in me. I just felt more blessed than ever.
Now, no one in my family is as dedicated to the organic lifestyle as much as I am. Yes, I have influenced and educated my family a lot about the organic lifestyle but they still aren't fully on board. So just the fact that my grandma bought certain organic products for me, it made me feel so happy and supported because she doesn't have to go out of her way to do that.
When I was in college, I also had some friends that barely even knew where a Whole Foods Market was and they would go just to buy me my favorite Green & Black's Chocolate. Or, they would buy organic food if they invited me over for dinner. That always made me feel so grateful and appreciative.
Also, a couple of months ago I met an amazing woman, who is also a blogger, and she invited me over to her house for dinner. She just recently started eating more organically but not fully. She went out of her way to make an organic dinner for us because she knew of my lifestyle. I was so appreciative of that because we had just met and she did not have to do that.
All of this support from my family and friends has made these past 8 years living an organic lifestyle that much more amazing.
I am organically thankful for everything that I have. I am organically thankful everyday that I get to wake up and share my passion. Even with how peculiar 2016 was, there is still so much to be thankful for. Undoubtedly, there is still so much beauty left in this world. Always remember that no matter what trials and tribulations may come your way, there is something to be thankful for.
So I just want to say thank you to those of you for supporting me through the years on this amazing journey of mine. Also to my readers and followers, thank you for your support on my blog. I couldn't be sharing my journey if it wasn't for you all. I am truly organically thankful!
Happy Thanksgiving!
Love,
Sara, "S.O.Eats"