Rudi's Pumpkin Sandwich Bread
Yesterday I went to Whole Foods Market in Fort Lauderdale and I found Rudi's Pumpkin Sandwich Bread for the first time on the shelf in the bakery section. Without hesitation, I put it in my shopping cart. It is Organic, Vegan, Non-GMO, Kosher, and made with real pumpkin and recognizable ingredients. There are fourteen slices of pumpkin bread in the package. Also, you can smell the pumpkin spice without opening the bag. This morning for breakfast, I made maple cream cheese and topped it on my toasted pumpkin bread (I will post the recipe soon 🙂 ). It was so delicious and tasted like fall time which is non-existent in South Florida. For those of you who are obsessed with pumpkin, you will love this delicious pumpkin sandwich bread.  You can top this bread with cream cheese, butter, butter substitute, coconut butter, maple butter, or anything you desire. This would also make a fantastic pumpkin french toast or even a classic Thanksgiving sandwich. There are so many amazing recipes you can make with Rudi's Pumpkin Sandwich Bread. I will experiment some other recipes with the pumpkin bread so that I can share it will all of you. You can find Rudi's Pumpkin Sandwich Bread at your local Whole Foods Market and local organic markets. Please visit https://www.rudisbakery.com for more information and locations on where you can buy their amazing organic bread products.
Below is the Nutrition Facts and Ingredient list.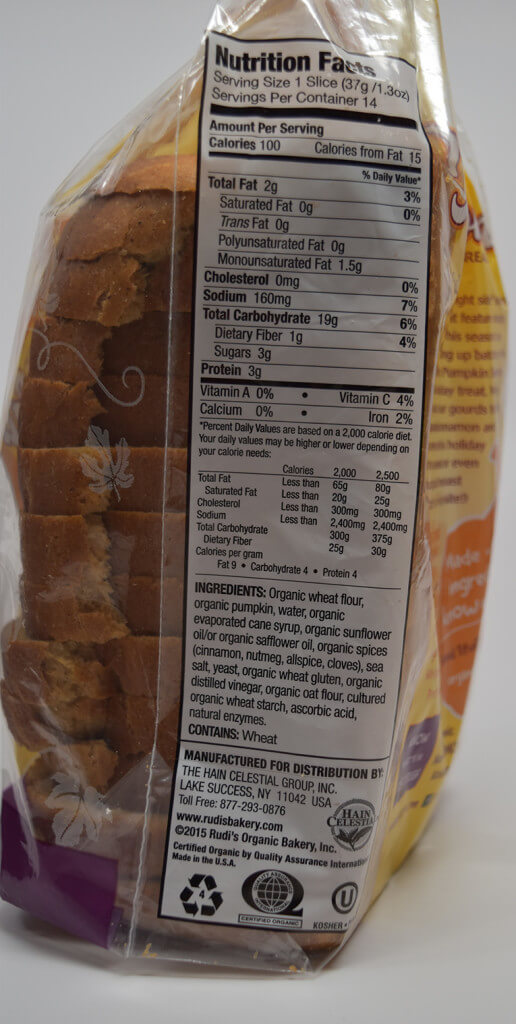 I hope you enjoy Rudi's limited edition pumpkin sandwich bread and taste what fall is all about, bite after bite.
Love,
Sara, "S.O. Eats"