Vrisi 36
Vrisi 36, a brand line imported by parent company Flying Olive Farms produces Greek olive oil, balsamic vinegar, and other Greek specialty products. Vrisi 36's products are produced in the Lakonia and Messinia region of Greece.
Olive Oil
Vrisi 36 offers the most authentic Greek olive oil that you can find on the market. They pick the olives off the trees and within 24 hours they are cold press and packed in the bottle. You get the "farm to bottle" service, which is the way olive oil should be produced. This process allows their olive oils to stay pure, which you can taste when you try Vrisi 36's Extra Virgin Olive Oil. Their quality just cannot be matched. Unlike other olive oil companies, Vrisi 36 tests the amount of polyphenols in their olive oil. Polyphenols are the reason many consume olive oil as it has been researched to fight diseases. The sad truth is that recent research has shown that most olive oils on the shelves today do not contain polyphenols and most are not even olive oil as they claim. You can be assured that you are getting high quality olive oil with all the benefits still in tact.
All of Vrisi 36 's olive oils are Non-GMO, all natural, unrefined, cold pressed, and do not contain preservatives. They also carry organic and kosher certified olive oil in their line as well.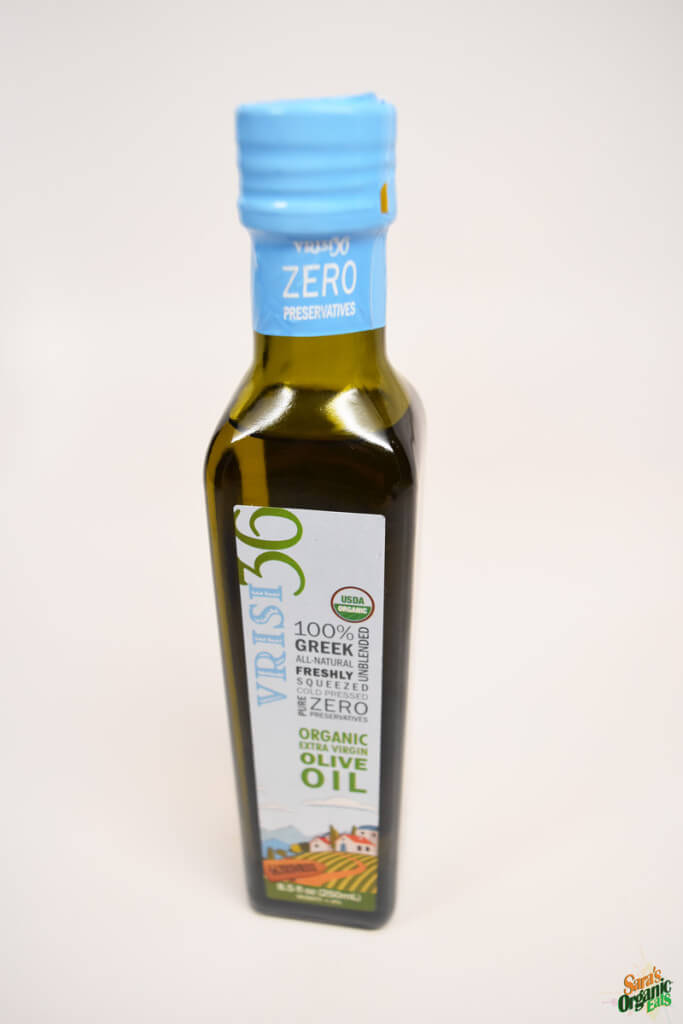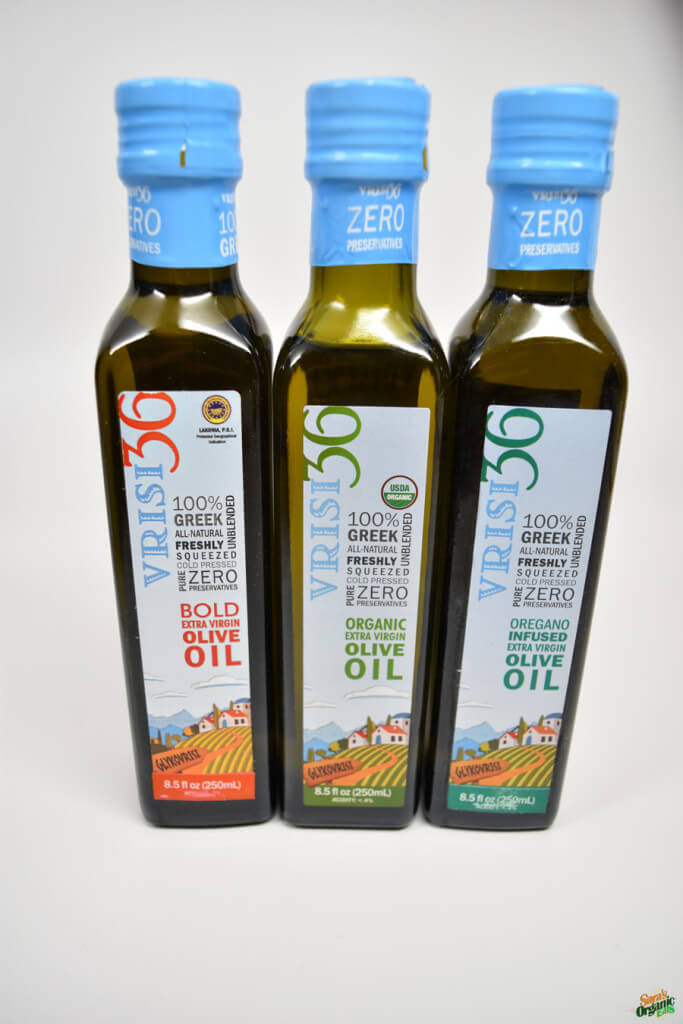 Balsamic Vinegar
Vrisi 36 has a unique line of balsamic vinegar. They are one of the very few companies to use the Corinthian Grape, better known as currants, to produce their balsamic vinegar. As a result, the balsamic vinegar has a sweet taste, a strong red color, and is left with nothing but antioxidants. Their balsamic vinegar is Non-GMO and contains no sulfites or artificial colors or flavors. Vrisi 36 carries their balsamic vinegar in both organic and natural.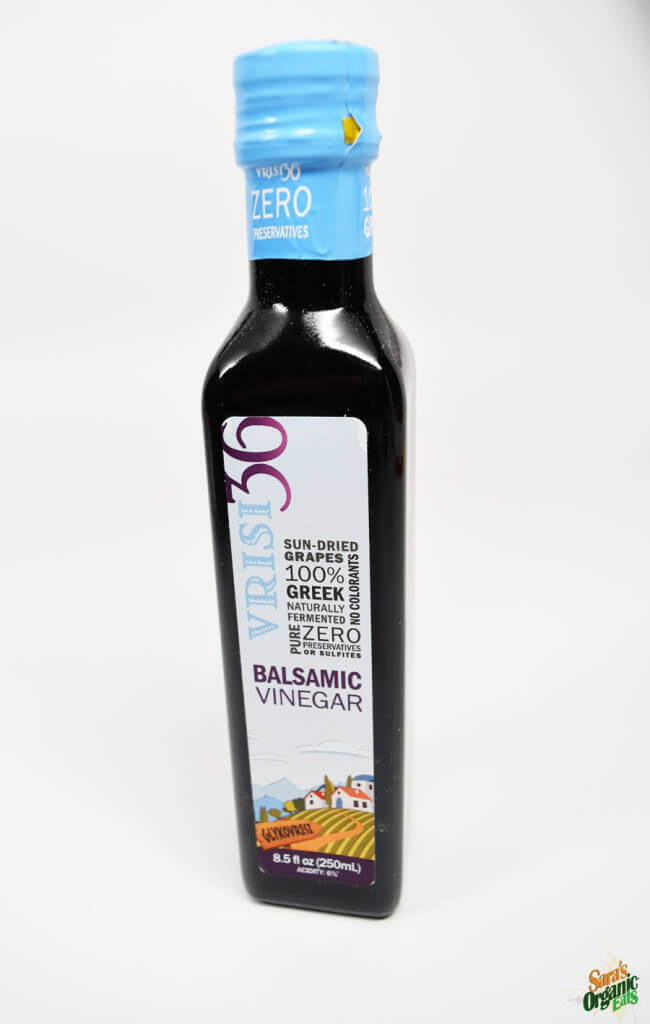 Other Products
Flying Olive Farms, which is the import company of Vrisi 36 is located in Raleigh, North Carolina. Along with their brand line Vrisi 36, they also import other Greek specialty products. One of their most popular is a beverage called Mastiqua, which is sparkling water that contains Mastiha. Mastiha is a tree resin that comes from the Mastic tree. Mastiqua is a health drink that helps with digestion and oral health. It is also known to have anti-inflammatory and anti-microbial benefits. This beverage comes from the Chios Island in Greece. Flying Olive Farms also imports a variety of the most sought out wines from the Monemvasia Winery.

Also part of the Vrisi 36 brand is Mediterranean Mustards that are made with the brands' olive oils and balsamic vinegar. You get a pure taste of the Mediterranean when you use the mustards. The best part is that it is made without any processed chemicals and only ingredients you can pronounce.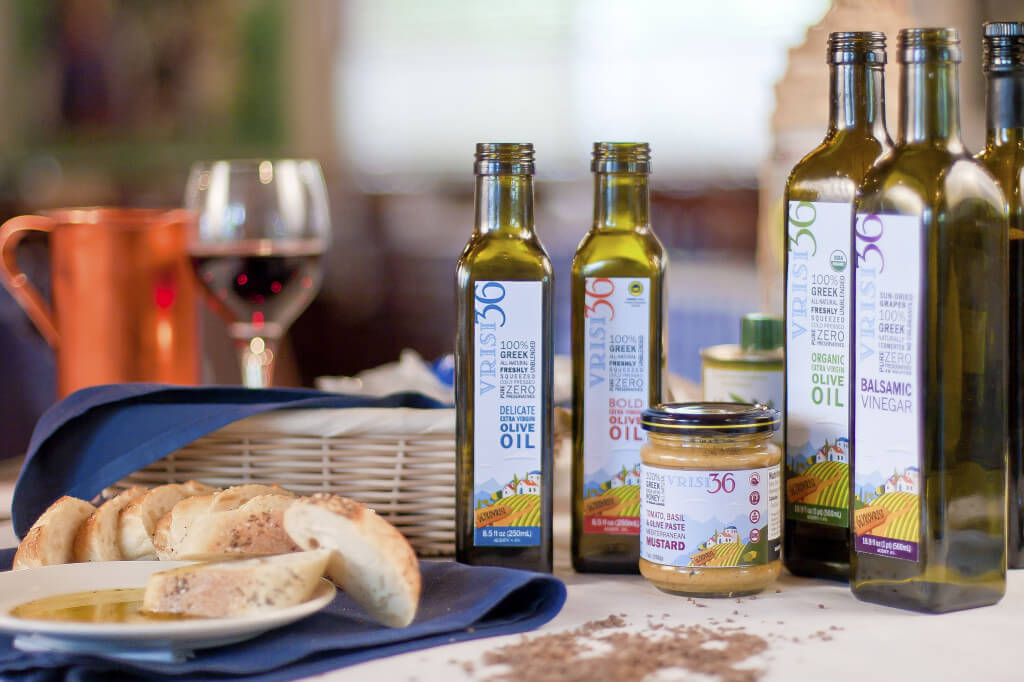 Vrisi 36 partnered with celebrity chef Diane Kochilas who created amazing Greek recipes using Vrisi 36 products. Please visit http://www.dianekochilas.com/greek-recipes/  to bring a taste of Greece to your dinner table using only the finest Greek products.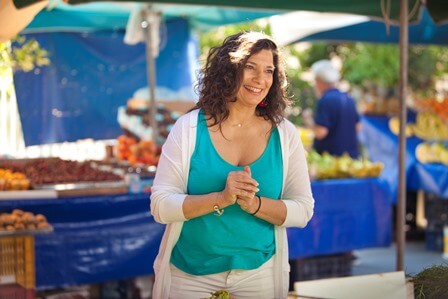 I highly recommend all of you to try any of Vrisi 36's and Flying Olive Farms products. There is no other company out there that truly gives you the authentic taste of Greece with the highest amount of health benefits than those of Vrisi 36 and Flying Olive Farms.
For more information about their products and where to buy please visit
http://vrisi36.com/where-to-buy/
Like Flying Olive Farms and Vrisi 36 on Facebook and Follow them on Twitter
https://www.facebook.com/FlyingOliveFarms
https://twitter.com/FlyingOliveFarm
https://www.facebook.com/Vrisi36
I hope you enjoy the taste of Greece without ever having to leave the dinner table.
Love, 
Sara, "S.O. Eats"
*Disclamer: All images in this post are the sole property of Flying Olive Farms unless the images contain the Sara's Organic Eats Logo.