Paleo Scavenger Handcrafted Snacks
For those of you on the Paleo diet, finding tasty on-the-go snacks can be a difficult task. Traditional granolas are made with loads of sugar, soy, wheat, and genetically modified oils that turn this healthy snack into a diet disaster. Unlike traditional granolas, Paleo Scavenger does not contain grains, dairy, soy, artificial flavors, or refined sugars.
The Paleo diet is a way of eating of the early humans in the Paleolithic era. In that era, they mainly ate meats, nuts, fruits, vegetables and nothing processed. The Paleo diet today is also based on the same principles, which is to eat unprocessed, whole foods that are filled with nutrients.
Paleo Scavenger is a handcrafted granola made in small batches in Chicago, Illinois. I found this amazing product as I was walking through the Next Pavillon at the Natural Products Expo East. There are four different flavor granolas. These flavors include Original, Maple Pecan, Blueberry, and Cherry. The best part about Paleo Scavenger granolas is that they are all super smooth and soft so you won't have to worry about pulling any teeth out like some granolas. Each granola has a basis of this coconut almond flavor that is not overpowering and it just melts in your mouth. You can taste every ingredient in the granolas without any one being more overpowering. The reason that Paleo Scavenger is one of the most delicious Paleo granolas on the market is because of the ingredients they use which is the most important of any great product. Just to name a few, they use almonds, walnuts, coconut, honey, vanilla, cherries, blueberries, and pecans. As you can see, these are all whole ingredients. It is sweetened with either honey or maple syrup and has a very low sugar content which is hard to find in traditional granolas. You can be assured you are getting a tasty Paleo snack with benefits when you try any Paleo Scavenger granolas.
Original
The original is a delicious and smooth taste of nuts, coconut and a hint of vanilla without any flavor overpowering the other.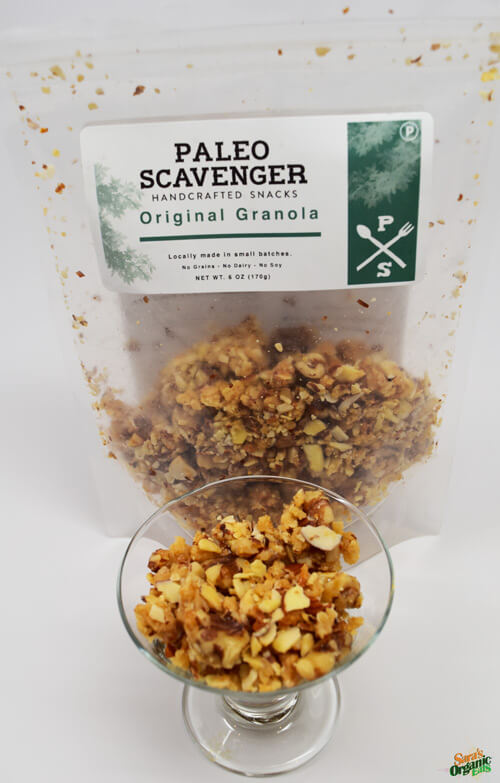 Blueberry
The blueberry granola tastes a lot like a blueberry muffin because of the small dried blueberries throughout the mix. It also is sweet like a blueberry muffin but it doesn't contain any refined sugar.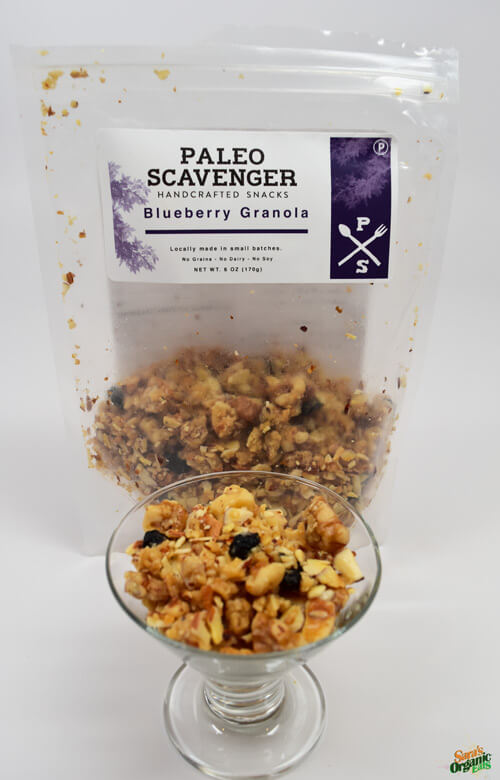 Maple Pecan
The maple pecan is everything you could possibly dream of. It has the taste of candied pecans without there even being any sign of sugar which is amazing! If you love anything with maple and pecan together you will love this delicious combo.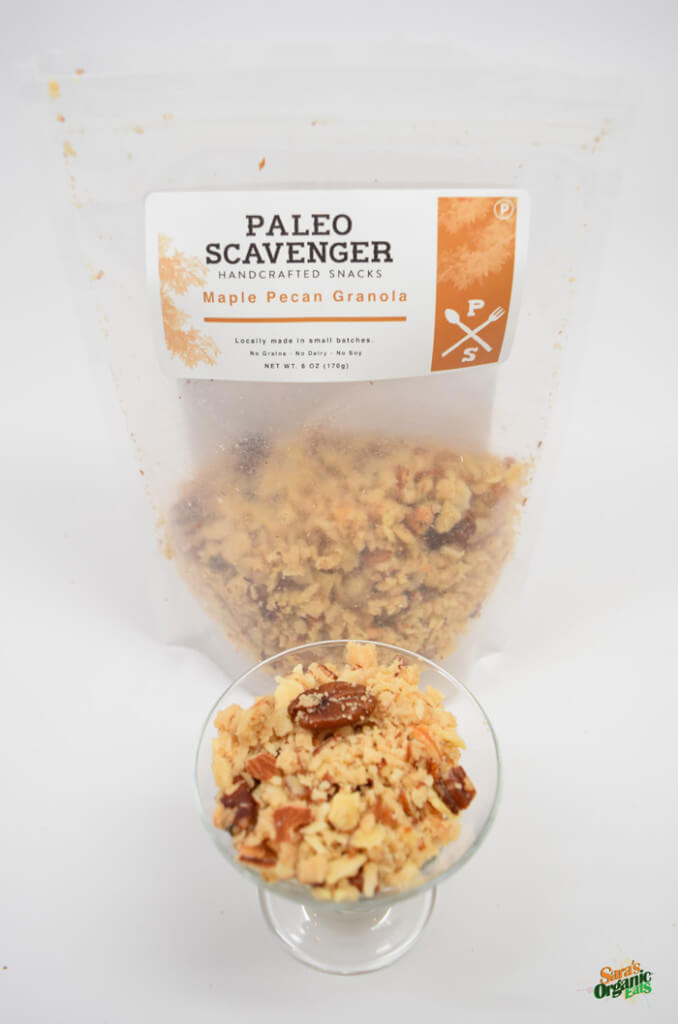 Cherry
The basis of the cherry granola is a little bit sweeter than the other flavors, but it does not have any added sugar. It contains large dried cherries throughout the granola which gives it a great cherry nut taste.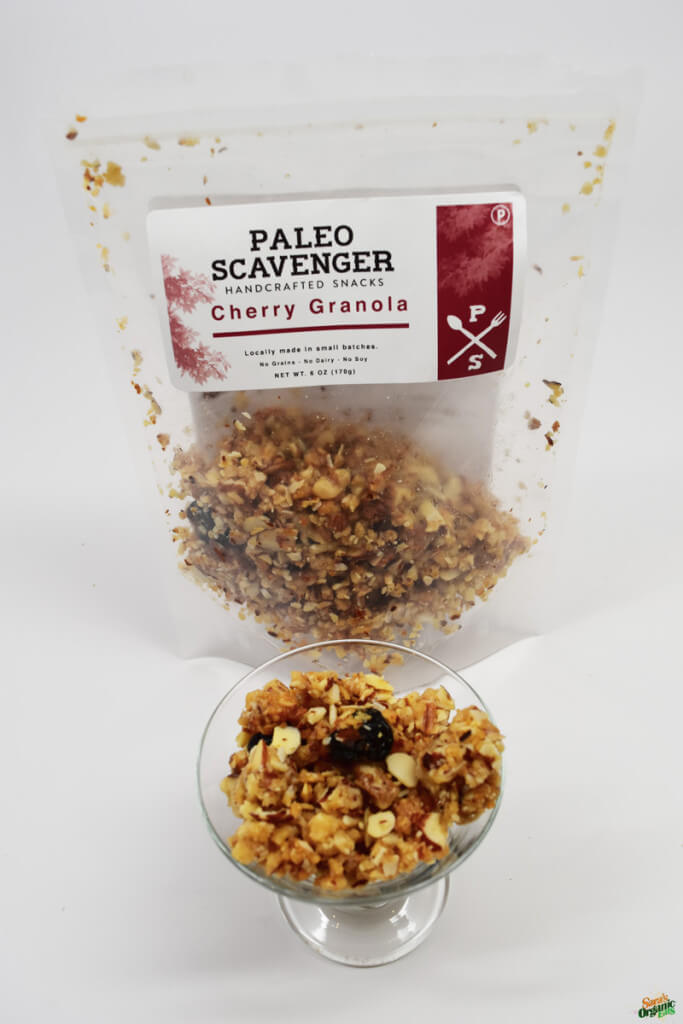 My favorite is the maple pecan because I love that flavor mix. Each flavor has a wonderful base of nuts and coconut that is just so smooth. This is what makes this granola one of the best granolas on the market.
You can add Paleo Scavenger granola to your favorite recipes. You can eat it straight from the bag, in a bowl with non-dairy milks, as a topping for sweet potato casserole, and so much more.
For more information and where to buy please visit http://paleoscavenger.com  
Also you can follow Paleo Scavenger on
https://www.facebook.com/paleoscavenger
https://twitter.com/paleoscavenger
https://instagram.com/paleoscavenger/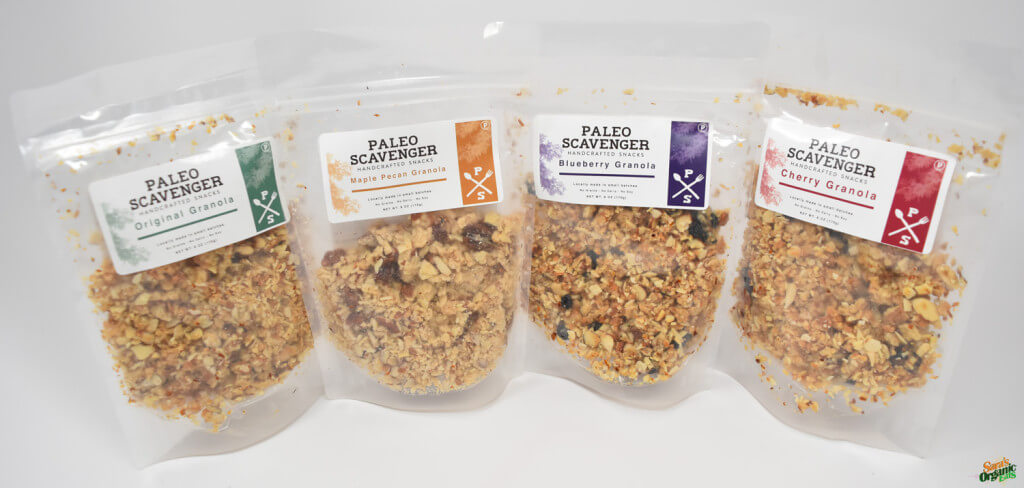 Love, 
Sara, "S.O.Eats"