Vegan Purple Sweet Potato Casserole
Have you ever tried a purple sweet potato? If you haven't, you should go to your local farmers market or specialty grocery store and purchase a purple sweet potato. Not only is the purple color amazing, but the taste is sweeter than a normal orange sweet potato. You can cook them the exact same way as you would any regular sweet potato. It is high in antioxidants. Because the color is so vibrant, you can use the coloring from the potato as a natural dye to other foods. About a month ago, I found organic purple sweet potatoes at my local Whole Foods Market and I decided to make a sweet potato casserole. Ever since then, I have made this recipe 3 times within the past 5 weeks. This is a great side to any dinner and it's also a twist on a traditional sweet potato casserole for Thanksgiving. Your guests on Thanksgiving will be surprised on how amazing, beautiful, and delicious this casserole is. No one will ever know that this recipe is Vegan. The most important part is that you do not have to be a Vegan to like and fall in love this recipe.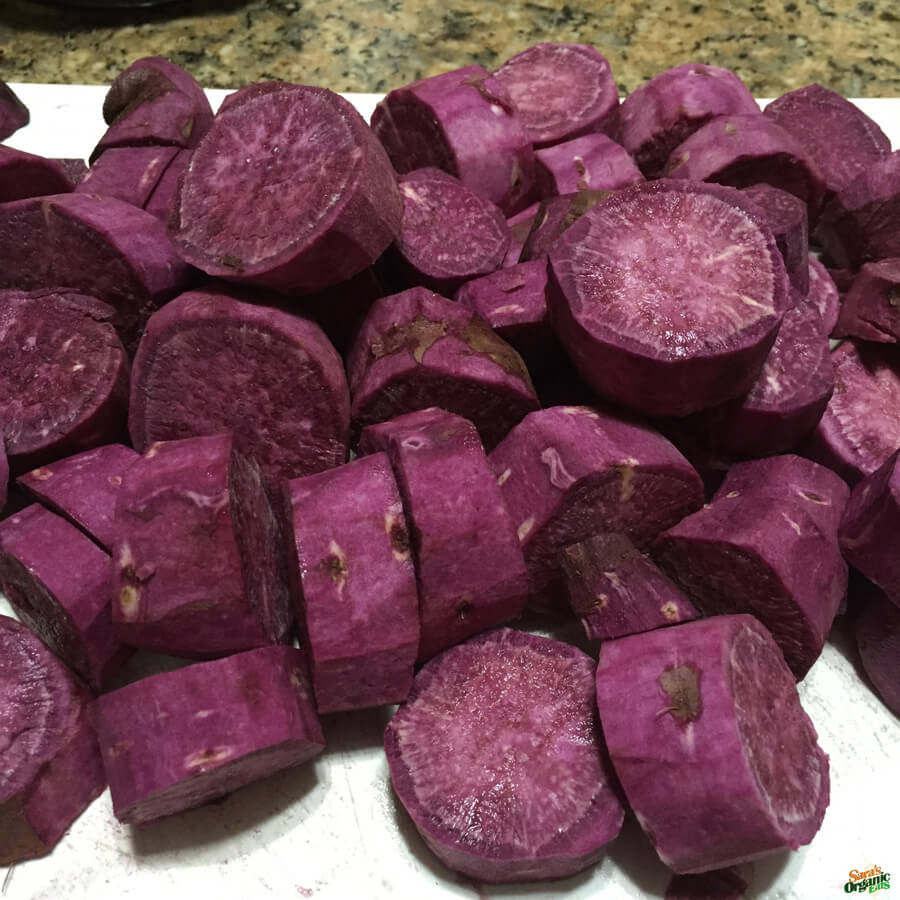 Cut and peeled purple sweet potatoes. Add these to a pot filled with boiling water. Cook for 15 minutes.
Vegan Purple Sweet Potato Casserole
Ingredients
5 medium purple sweet potatoes, skin removed and cooked
1/3 cup of water (more if you like it a little thinner in consistency)
2 tablespoons of Vegan Butter (Nutiva Organic Vegan Buttery Spread)
1/3 cup of water
4-5 tablespoons Grade B Maple Syrup
1 1/4 tsp Vanilla Extract
1/2 tsp Himalayan Salt
1 tsp Cinnamon
Topping
1 bag of Dandies Vegan Mini Marshmallows
Instructions
Preheat oven to 375 degrees. Peel and cut sweet potato into rounds (it doesn't matter the size of the rounds). Place potatoes in a pot with water. Make sure the water covers the potatoes completely and then boil for about 15 minutes until soft. Drain the potatoes but make sure to keep about 1/3 cup of water. Feel free to add more water if you like a thinner consistency. Mash the sweet potatoes with the butter. Then add maple syrup, vanilla, salt, and cinnamon and mix until fully incorporated. Place in a 2 quart casserole dish coated with coconut oil spray or any vegetable oil spray. Bake for 35-40 minutes until lightly browned on the top. Then add the full bag of Marshmallows. Put back in oven for about 5 minutes. After the 5 minutes, If you desire, you can also then broil the casserole for about 2-3 minutes on low.
Notes
If you do not want to make this Vegan, you can use butter and marshmallow of choice.
https://sarasorganiceats.com/vegan-purple-sweet-potato-casserole/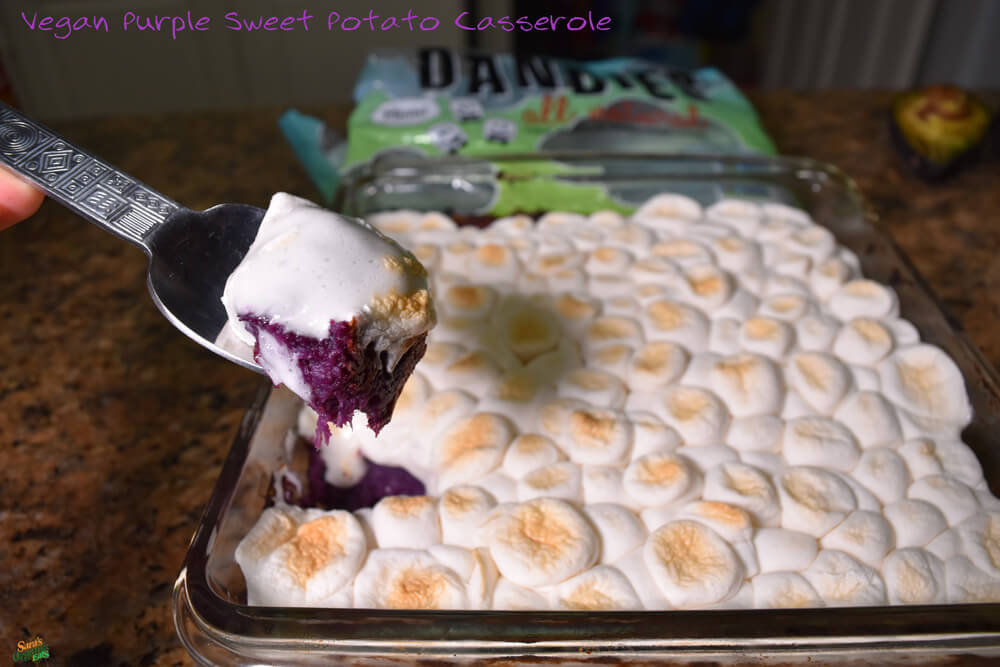 I hope you enjoy this sweet, delicious, beautiful, comforting Vegan purple sweet potato casserole. 
Happy Holidays!  
Love, 
Sara, "S.O.Eats"
Slightly Adapted from http://ohsheglows.com