How to Stay Energized with Proper Nutrition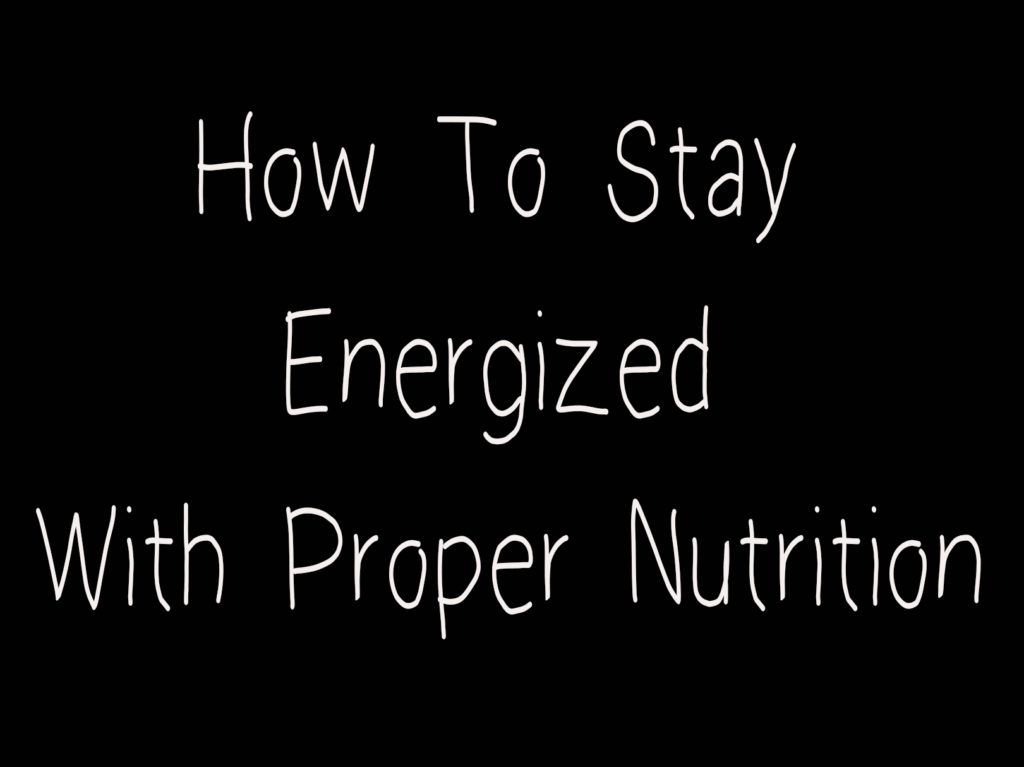 Proper nutrition is extremely important to stay healthy and energized throughout the day. Eating healthy and sticking to a certain lifestyle is challenging in itself. We all lead busy and hectic lives these days, which can certainly derail our health efforts. But just know that is doesn't have to. With proper planning and proper nutrition, you can all feel energized throughout the day.
As a blogger, I lead an extremely busy life. Between blogging, traveling, and cooking, I am constantly on the go. The one thing that keeps me going is proper nutrition. Eating organic and committing myself to an organic lifestyle is what fuels me throughout the day. I make sure I eat a lot of fruits and vegetables because that is what provides your body with natural sustained energy. Since I cut caffeine out of my diet, I personally cannot rely on coffee as an energy source. Instead, I fuel with other natural energy sources that come from nutrient-dense foods.
Just because you may have a dietary restriction like gluten free, nut free, soy free, dairy free, vegan, and organic, it doesn't mean you have to sacrifice getting proper nutrition. With diets that are restricting, sometimes packaged food can be stripped of nutrients that the body needs. But there are many ways now to stay energized, healthy, and fit without compromising your dietary lifestyle.
Here a few tips to help you stay energized with proper nutrition…
Carry snacks that contain nutrients

I always carry snacks with me no matter where I go. This is so that whenever I feel an energy drop, I have something quick and healthy to re-energize my body with.
The best snacks to carry are organic nuts, fruit, protein shakes, and protein bars

For a convenient quick protein shake, I drink Orgain. It is an organic brand of protein shakes that does not contain any soy, gluten, artificial colors, or flavors. I normally drink their plant-based protein which is vegan. It is great for those of you that have dietary restrictions but also need something to keep you energized. For more information visit their website www.orgain.com .
For protein bars, I buy the GoMacro brand. It is a high protein bar. It is also certified organic, gluten free, vegan, and raw. It is perfect for those of you that have certain dietary restrictions. It is great for after or before a workout and it keeps you full and energized. For more information check out their vegan protein bars.

Drink organic juices or smoothies

Organic juices or smoothies are a great way to refuel your body with nutrients from plant based sources. It is also a great way to get a high amount of nutrients from just one drink.  In the morning or afternoon, I'll either make a juice/smoothie at home or I'll stop by an organic juice bar and have an organic smoothie or juice there. It is an instant energy booster.

Keep healthy food in your house 

Always buy healthy food that is accessible. After a workout, sometimes you feel like you want to ravage your kitchen and it is common to crave unhealthy foods. But, if you keep healthy food in your house that complements your lifestyle, you won't have to worry or sacrifice your lifestyle.

Drink a lot of water

Drinking water regularly prevents dehydration. Dehydration causes tiredness and drains your energy. So, drinking water will help you avoid low energy.
These tips are some of the many ways you can stay energized with proper nutrition. I hope these tips help you. You should never feel like it's hard to live an active lifestyle while also living a restrictive dietary lifestyle as well. There are so many amazing products out there these days that allows you to stay energized without sacrificing your lifestyle. Remember, proper nutrition is key to optimal health.
Love,
Sara, "S.O.Eats"