Organic R

oas

ted R

oot

Vegetables
This organic roasted root vegetables recipe is perfect for a side dish with many meals. This is a great side dish in the fall because that is when the root vegetables are at its peak. I do want to note that I also make this recipe throughout the whole year. But, certain times of the year I'll use different vegetables because some of the ones I use are not always in season. It is sometimes difficult finding organic root veggies down in South Florida when they are technically out of season. This usually happens in the spring time. Also this is a great colorful side dish for Thanksgiving. This side dish pays homage to the root vegetables that sometimes get overlooked. Also, whenever my sister comes back home to visit she always begs me to make this for her. I love going to the farmers market in the fall and picking out all of these colorful organic vegetables to make this dish. This is a great way to get all your nutrients in one casserole dish. It has your perfect mix of nutrient dense potatoes and other hearty vegetables.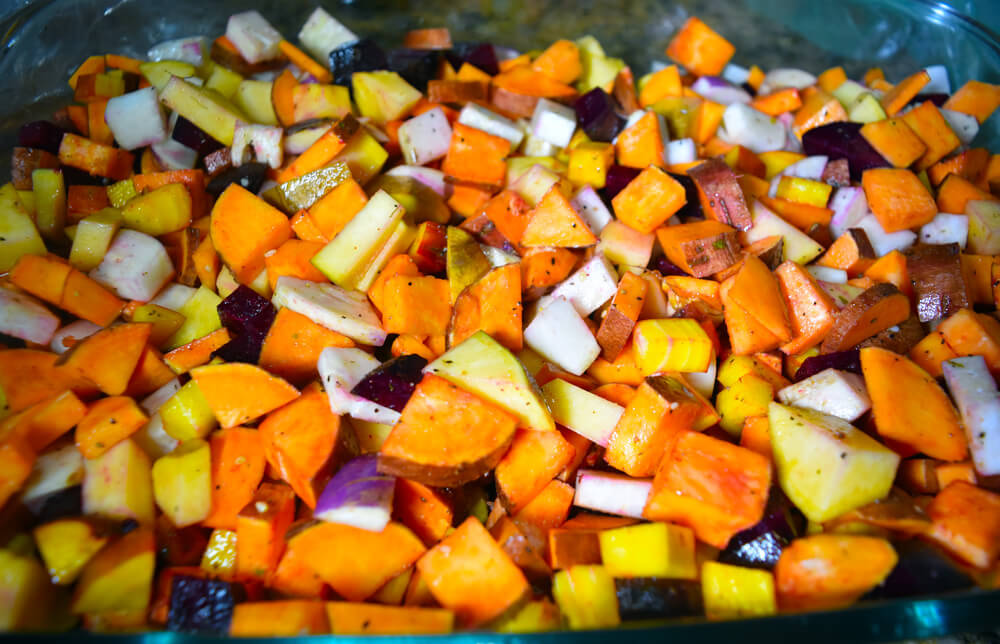 Organic Roasted Root Vegetables
Ingredients
2 large sweet potatoes, diced
3 small Yukon potaotes, diced
3 red beets, diced
3 golden beets, diced
1 medium-large turnip, diced
1 medium-large rutabaga, diced
3 parsnips, peeled and cut in thin circles
3 carrots, peeled and cut in thin circles
3 tablespoons olive oil
1 tsp sea salt (I use Himalayan pink sea salt)
½ tsp onion powder
½ tsp garlic powder
½ tsp pepper
½ tsp garlic n herb (by Simply Organic)
¼ tsp paprika
Instructions
Preheat oven to 375 degrees F. Dice up all the vegetables and put them in a large mixing bowl. Add the olive oil and seasonings. Mix together until the vegetables are coated with the oil and spices. Feel free to add more spices and oil at this point if need be. You can either coat a large baking sheet with aluminum foil or you can place the vegetables into a large casserole dish. Whichever way you chose to cook your vegetables are fine. Place it in the oven for 45-55 minutes. At the 45 minute mark check your vegetables and see if they are soft. At this point you may need to add a little bit more olive oil and mix the vegetables and cook for another 10 minutes. When vegetables are soft, take them out of the oven and serve warm with your main dish.
Notes
I have used both ways to cook the roasted root vegetables with either a casserole dish or a baking sheet and they both come out wonderful. If you use the casserole dish, make sure you check it in the middle, take it out, stir it, and put it back in the oven.
Feel free to add any spices you may like
Feel free to adjust the ingredient amount to your liking
You can use any root vegetables you like or take out ones you dont
http://sarasorganiceats.com/organic-roasted-root-vegetables/
I hope you enjoy this warm, hearty, and colorful organic roasted root vegetables recipe!
Love, 
Sara, "S.O.Eats"